HENDERSONVILLE HOME BOUND MEALS PROGRAM
HENDERSONVILLE HOME BOUND MEALS POSTPONING 2020 FUNDRAISERS. YOUR HELP IS NEEDED! Good Afternoon Friends and Supporters,
As a result of Covid-19, normal is something we are all still trying to define. Like many other 501C3's fundraising for the Hendersonville Home Bound Meals Program has been dramatically impacted and in a negative way. HBMP feeds approximately 120 individuals 5 days a week, last month's cost was over $12,000. Along with grants and regular contributors, we depend on various fundraisers to provide this service. Because of Covid-19, our fund raisers are being postponed for 2020, with plans to resume as soon as it is possible in 2021.
Tuesday, the HBMP Board of Directors had an emergency meeting to discuss what we can do about the shortfall that will occur because of our inability to have the traditional fundraisers. Various ideas were presented, but the one that we kept coming back to was to simply ask ourselves, our friends, supporters, and the community to open their hearts and wallets and contribute.
The challenge is to raise $30,000 to cover the cost or our projected shortfall, can you help? Donations can be made on this page or checks can be made payable to the Home Bound Meals Program of Hendersonville and mailed to
Home Bound Meals
381 W Main Street
Hendersonville, TN 37075.
Thank You and May God Bless You and Yours.
The Home Bound Meals Board
————————————————————————————————————————————————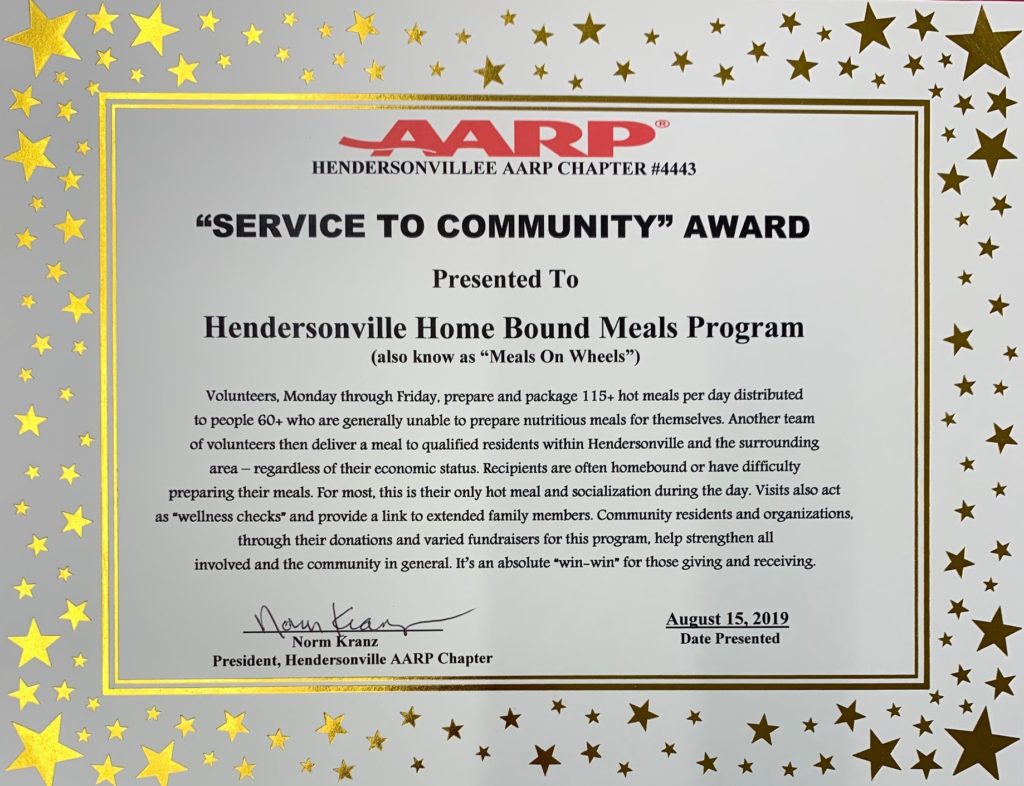 Congratulations to the many people that donate and volunteer at Hendersonville Home Bound Meals Program. Thursday, August 15, the local AARP chapter celebrated its 30th anniversary. At the end of the event, Home Bound Meals was presented this certificate for the impact Hendersonville Home Bound Meals Program has on the community.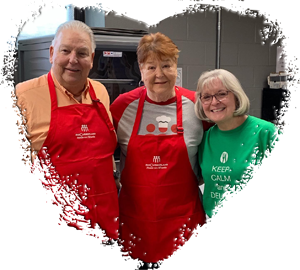 The Hendersonville Home Bound Meals Program (HBMP) is an all-volunteer organization founded in 1982 to serve the elderly population of Hendersonville. In 1982, the average number of meals served daily was 17.
Today we have exceeded our numbers from 1982 several times over. We have a list of people waiting to join the program. The segment in the population in need of this service is growing. Our ability to serve the increasing demand is only limited by our funding.
The Home Bound Meals Program has the exclusive rights to serve the eligible population in the city of Hendersonville and the surrounding areas. The program is a non-discriminatory organization.