THE 2019 PANCAKE BREAKFAST AND SILENT AUCTION RAISED $21,725.00 TO BENEFIT THE HBMP! THIS AMOUNT WILL PAY FOR 2 MONTHS MEALS!
Thanks to everyone who make this event a huge success!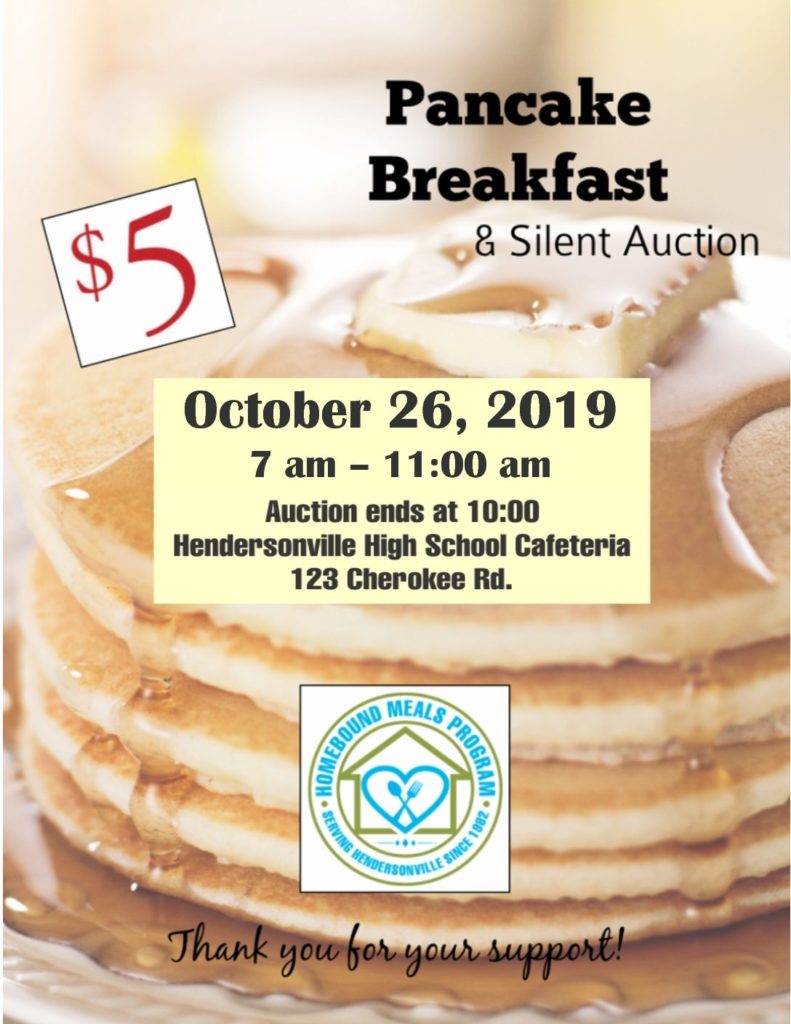 HOME BOUND MEALS PANCAKE BREAKFAST AND SILENT AUCTION
The Annual Pancake Breakfast & Silent Auction to benefit the Hendersonville Home Bound Meals Program will be on October 26, 2019 in the Cafeteria of Hendersonville High School. The Pancake Breakfast is from 7:00am until 11:00am. The Silent Auction starts at 7:00am, the bidding will end at 10:00am.
There will not be a General Store this year, but we are adding a Tasty Treat/Bake Sale. You can purchase items such as breads, decorated cookies, cakes, homemade pickles etc., from 7:00am until 10:45 am. This means that you can shop and enjoy another cup of coffee and live entertainment. Yes, I said live entertainment! Wanette Turner with the Huckaby Show will sing while the bids are being tallied.
Tickets are $5.00 each and can be purchased at the door.
We are currently accepting Table Sponsorships. For a $100 donation the sponsors will have their logo placed prominently on a table, their name will be displayed on our sponsor board, listed on our Website (hendersonvillehbmp.org), and on our Facebook page.
We are also accepting items or services that can be sold in our Silent Auction. Items must be new. In return for your donation, credit will be given to your business on the item & the bid sheet, listed on our Website, and on our Facebook page.
If you are interested in being a Sponsor, donating to the Silent Auction or purchasing tickets please go to the "Contact Us" tab.
This site and our Facebook page will be updated throughout the month and we will feature interesting Auction Items on both sites.
Thank you for your support of the Home Bound Meals Program!
Thanks to Our Sponsors
Thanks to the Friends of Hendersonville Home Bound Meals Program
• Sue Anderson
• Barbara Askew
• Bobby Atkins
• Julian Avery
• Fran Baird
• LIsa Baugh
• Betty Bell
• Melanie Bowers
• Connie Bumpus
• Delores Burke
• Wynn Callis
• Cathey Castle
• Vicki Cosma
• Bob Cotter
• John Cotter
• Duane & Linda DeVault
• Peggy Downey
• Gabriel Elrod
• Nancy Gilley
• Jay Goosetree
• Marilyn Head
• Mike Hickman
• Joy & Huston Hudson
• Kathleen Hurd
• Donna Johnson
• Mabel Jordan
• Linda Keen
• Sylvia & Paul Kizer
• Shirley Krantz
• Polly Krebs
• Aleta Kuckkhan
• Phil & Alice LeGere
• Sharon Lewis
• Curtis Lincoln
• Ken & Vickie Louallen
• India Matlock
• Jim McCoy
• Judy Morgan
• Elaine O'Day
• Buck & Susan Owen
• Darlene Pohlman
• Judy & Pat Raymer
• Paula Rhea
• Julia Runyon
• Dennis Robertson
• Sue Schroat
• Janice Slaughter
• Donna Smith
• Diane Spence
• Lee Spann
•Tom Staggs
• Phil & Susan Sweeney
• Tina Teal
• Wilson & Jane Treadwell
• Gary & Sharon Tripplett
• Jim Turner
• Wanette Turner
• Wanette Turner
• Shirley Vaughn
• Bill Walker
• Barbara Ward
• Reta Ward
• Judy Weaver
• Bobby Williams' Sunday School Class FBCH
• Mary Jo Williams/td>
• Sherri Williams
• Allie Willis
• Sally Wilson
• Judy Womack
• Pam Woods
• Mitzi Wright
Corporate Friends & Supporters
Adventure Science Center
Bar-B-Cutie Smokehouse
Bark Avenue Pet Supplies
Barnes and Noble
Baylor Bone Interiors
Books a Million
Brown's Florist
Cheddar's Scratch Kitchen
Chik-Fil-A, Hendersonville
China Cottage
Chop House
Community Resource Room
Country Hills Golf Course
Country Music Hall of Fame & Museum
Crystal Chiropractic
Demos' Family Restaurant
Dollar General
Dollywood Theme Park
Family Ministry Center, First Baptist Church
First Watch
Giggles and Glam
Ginger Bean
GNC – Gallery at Indian Lake
Hampton Inn Hendersonvville
Hattie B's Hot Chicken
Healthy Body Bakery
H'ville Church of Christ Ladies Bible Class
Hendersonville Produce
Hermitage Lighting Gallery
Holiday Inn Express
Home Depot
Hot Mama Soaps
Huckabee/TBN
Hummingbird Hems
Hyatt Place
Indian Lake Animal Clinic
Jumpstreet
Karma Hair Salon
Knights of Columbus
Kroger-W Main St, Hendersonville
Lifeway Christian Resources
Long Hollow Pizza
Matilda Jane Trunk-Courtney West
Massage Way
Midas
Nashville Predators
Nasvville Soccer Club
Nashville Sounds
Nashville Symphony
Nashville Wraps
Noire The Nail Bar
Nothing Bundt Cales
Oak Hills Golf Club
Our Place Café
Painturos-Gallatin
Pet Supplise Plus
Publix
Rio Bravo
Rock City
Ruth's Flowers
Salt Med Spa
Service Jewelry and Repair
Sisters in Christ Sunday School Class FBC
Shabby Chic Creations by Pat
Southeastern Building Corporation
Special T's Wreaths and Crafta
Strike and Spare
Starbucks – Goodlettsville
Stitches by Cyndi
Swaney Swifts on the Square
Sweet and Sassy
Tennessee Aquarium-Chattanooga
Tennessee Grasslands
Tennessee Titans
Texas Roadhouse
The Animal Clinic
The Legacy Gold Club
The Oak Ridge Boys
The Rogers Group
Top Golf
Top Hog Restaurant-Gallatin
Tractor Supply
Trundy Trunk
Twice Daily
Vanderbilt Athletics
Volunteer State Bank (teller)
Vol State Community College
Wendys
Why Knot Beads