Dear Friends of the Hendersonville Home Bound Meals Program, your help is needed.
We are concerned about our clients during the Coronavirus Outbreak, they are in the high-risk category and some do not have family members to assist them.
We are currently working with Mid-Cumberland on a plan to provide our clients with Emergency Shelf Meals to have on hand in the event that there are days that we are unable to deliver hot meals.
We are also concerned that some of them may run out of necessary items and not be able to get to the store. We would like to have some supplies available to provide to the clients in need.
The needed items are toilet paper, paper towels, hand soap and hand sanitizer. Please help by donating any of these items. The donations will be delivered as needs are identified.
Donations can be taken to the Home Bound Meals Office located in the Community Church at 381 West Main Street Monday through Friday between 9:00am – 1:00pm. Please call the office, if you have additional questions. The number is 615-824-0811.
We realize that there are high risk residents that are not our clients so please pray for the health of everyone and check on your friends and neighbors.
Thank you and may God bless you and yours.
Sincerely,
The Home Bound Meals Board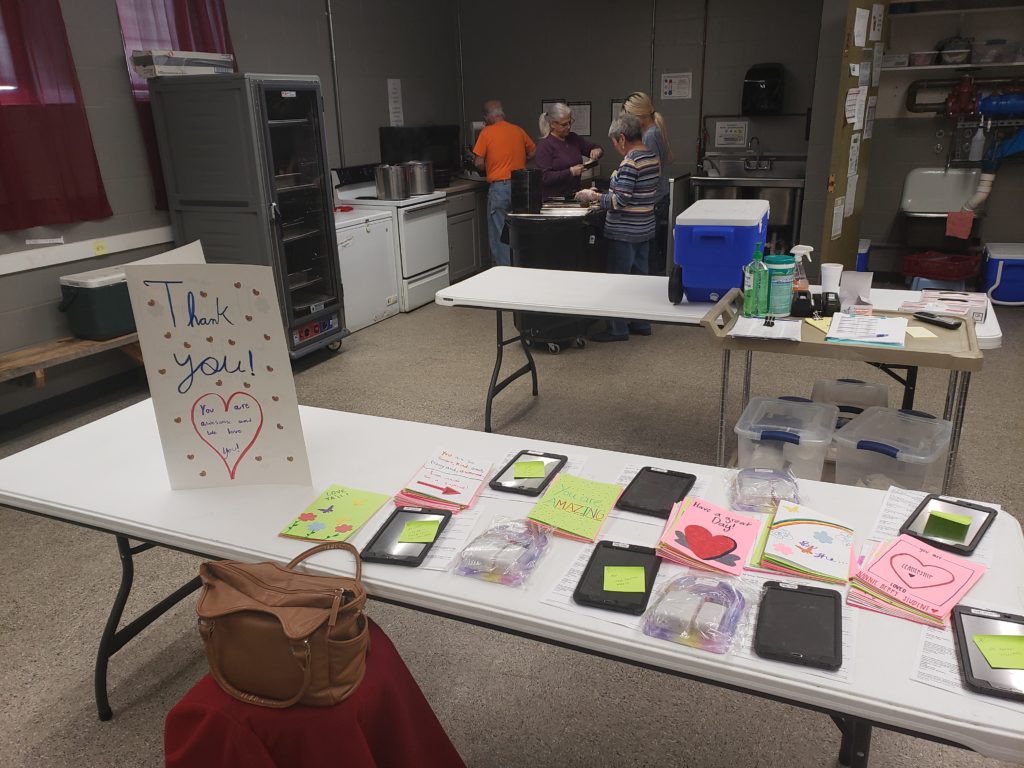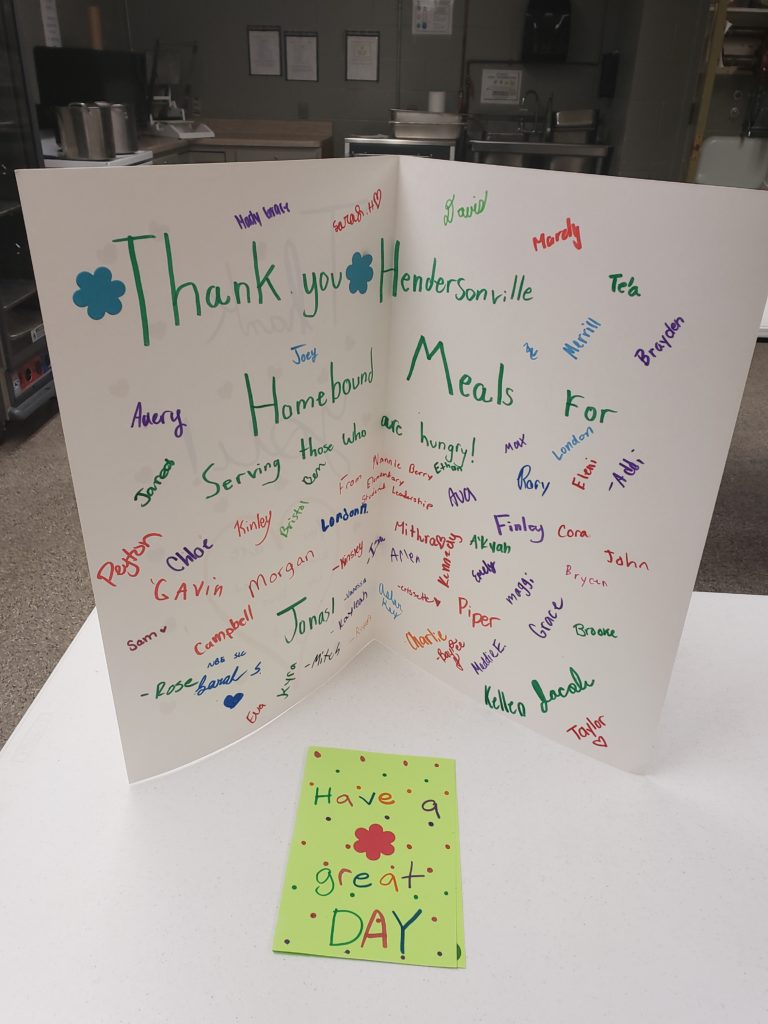 ————————————————————————————————————————————————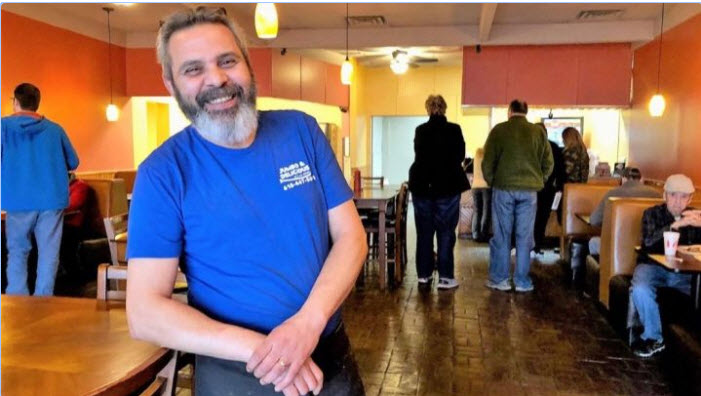 The Hendersonville Homebound Meals Program is deeply saddened by the death of Ayman Alberts. Board member, David Swanger speaks for us all. "Remembering Ayman Alberts…We have all heard the phrase, "To know him is to love him." Those words certainly apply to Ayman Alberts, long-time owner and operator of Jumbo & Delicious here in Hendersonville.
The love and appreciation of so many are being expressed personally and on social media. Many are responding financially on the GoFundMe page that has been set up to help the family.
From both a personal and community standpoint, Ayman was a shining star. Many of us enjoyed the atmosphere where Christian music filled the background, the food was always fantastic, and Ayman was always stepping from behind the counter to share a smile, a handshake, and a word of appreciation and encouragement.
As a supporter of the community, Ayman was always ready to do whatever he could. Just this past Thursday, Jumbo & Delicious sponsored a Spirit Night for Home Bound Meals of Hendersonville, raising almost $400 in that effort. He told us over and over that he would gladly help as often as we would allow him to. His Christ-like spirit, servant heart, and friendly disposition will be missed in this community. The legacy he leaves his family and each of us, is to be admired, appreciated and carried on. It has been a honor to have him as a part of our lives, and along with his family, we move forward, better for having been touched by his life."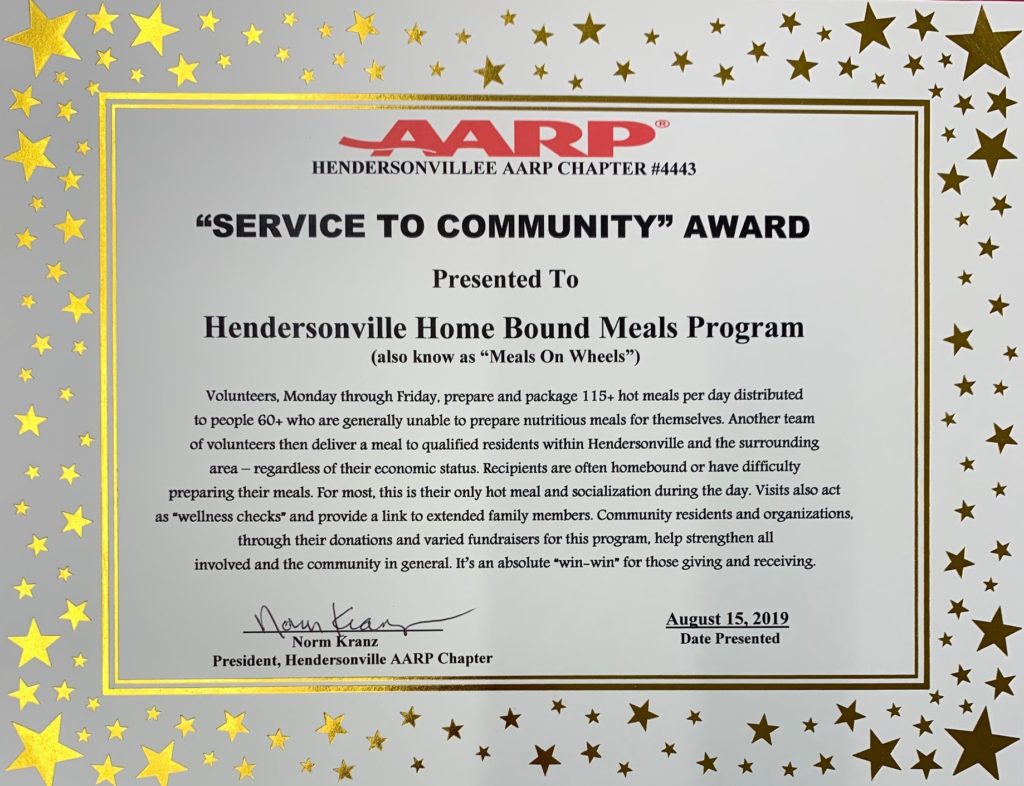 Congratulations to the many people that donate and volunteer at Hendersonville Home Bound Meals Program. Thursday, August 15, the local AARP chapter celebrated its 30th anniversary. At the end of the event, Home Bound Meals was presented this certificate for the impact Hendersonville Home Bound Meals Program has on the community.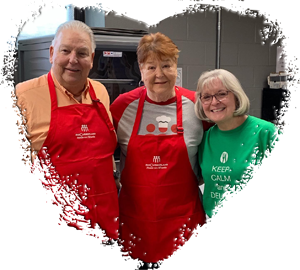 The Hendersonville Home Bound Meals Program (HBMP) is an all-volunteer organization founded in 1982 to serve the elderly population of Hendersonville. In 1982, the average number of meals served daily was 17.
Today we have exceeded our numbers from 1982 several times over. We have a list of people waiting to join the program. The segment in the population in need of this service is growing. Our ability to serve the increasing demand is only limited by our funding.
The Home Bound Meals Program has the exclusive rights to serve the eligible population in the city of Hendersonville and the surrounding areas. The program is a non-discriminatory organization.