MARCH SPIRIT NIGHT TO BENEFIT HENDERSONVILLE HOME BOUND MEALS HAS BEEN CANCELED!
During these uncertain times, Home Bound Meals is faced with some unique challenges and having to cancel fund raisers does not help. The Monthly Spirit Nights raise an average of $350.00.

We are currently working on a plan to provide our clients with Emergency Shelf Meals in the event that there are days that we are unable to deliver hot meals. THE COST FOR THE SHELF MEALS IS IN ADDITION TO TH E COST FOR HOT MEALS DELIVERED.

We are also concerned that some of our clients may run out of necessary items and not be able to get to the store. We are collecting some supplies for our clients in need.
THE NEEDED ITEMS ARE TOILET PAPER, PAPER TOWELS, HAND SOAP AND HAND SANITIZER.
A large portion of our kitchen and driver volunteers are in the high-risk age group. WE ARE ALREADY IN NEED OF VOLUNTEERS TO WORK IN THE KITCHEN AND DRIVE. WE ANTICIPATE THIS NEED TO INCREASE DURING THE CORONAVIRUS OUTBREAK.

HOW YOU CAN HELP.
• MAKE A MONETARY DONATION: Donations Can Be Mailed To Home Bound Meals, 381 W Main Street, Hendersonville, Tn. 37075.
• DONATE NEEDED ITEMS: Donations Can Be Taken To The Home Bound Meals Office Monday Through Friday Between 9:00am – 1:00pm.
• VOLUNTEER: Contact Richard Dennis At 615-824-0811.

Please Reach Out To Others, Check On Your Friends And Neighbors, Pray For Our Leaders, Healthcare Workers And For Everyone Touched By These Events. Thank You And May God Bless You And Yours.

The Home Bound Meals Board
—————————————————————————————————————————————-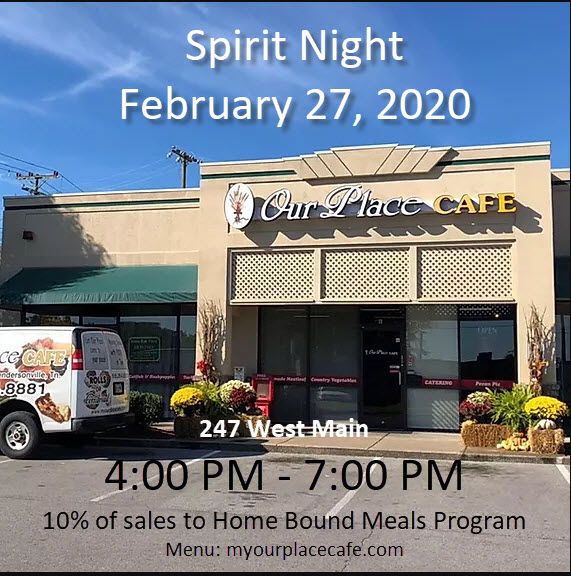 THANK YOU TO EVERYONE WHO CAME TO SPIRIT NIGHT AT OUR PLACE CAFE' ON THURSDAY IN SUPPORT OF THE HENDERSONVILLE HOME BOUND MEALS PROGRAM!
A TOTAL OF $460.00 WAS RAISED.
THE PROGRAM DELIVERS 120 MEALS 5 DAYS A WEEK TO HOMEBOUND HENDERSONVILLE RESIDENTS AGE 60 AND OLDER.
YOUR SUPPORT WILL PAY FOR APPROXIMATELY 95 MEALS.
THANK YOU AGAIN!
—————————————————————————————————————————————-